Introduction to the Court and Judiciary System in Alaska
Alaska, the largest state in the U.S., has a unique court and judiciary system that efficiently handles a vast range of cases. This system is built to uphold law and order and ensure justice is served fairly and promptly.
The Structure of the Judiciary in Alaska
The Alaskan judiciary comprises several key components.
Supreme Court
The Supreme Court, the highest court in Alaska, consists of a Chief Justice and four Associate Justices.
Court of Appeals
Beneath the Supreme Court is the Court of Appeals, handling criminal and some civil matters.
Superior Courts
Superior courts serve as trial courts for both civil and criminal cases.
District Courts
Lastly, district courts handle misdemeanors, small claims, and initial hearings for felony cases.
The Role and Function of Each Court
Each court within Alaska's judiciary plays a crucial role.
Supreme Court
The Supreme Court primarily hears appeals from lower courts and also provides administrative oversight for the entire judiciary system.
Court of Appeals
The Court of Appeals mainly reviews criminal cases and family law matters that have been appealed from the Superior Court.
Superior Courts
Superior courts handle a broad range of cases, from minor civil matters to serious criminal offenses.
District Courts
District courts, the lowest level of court, handle less serious criminal and civil matters.
The Process of Appointing Judges in Alaska
Unlike many states, Alaska uses a merit selection process for the appointment of judges, which ensures qualified, experienced individuals fill these important roles.
Unique Aspects of Alaska's Judiciary System
The remoteness and cultural diversity of Alaska add unique aspects to its judiciary system, including the incorporation of tribal courts and the use of 'bush judges'.
The Impact of Alaskan Judiciary on Indigenous Communities
Alaska's judiciary has a significant impact on indigenous communities, with several initiatives in place to acknowledge traditional customs and laws.
Technological Innovations in Alaskan Courts
Technological innovations have been key in Alaska's courts, helping to overcome geographic challenges and improve accessibility.
Conclusion
The court and judiciary system in Alaska is complex and unique, reflecting the state's cultural diversity and vast geography. Its various courts work together to ensure justice is served for all Alaskans.
FAQs
How are judges appointed in Alaska? Judges are appointed through a merit-based selection process.
What is the highest court in Alaska? The highest court in Alaska is the Supreme Court.
What is the role of the Court of Appeals? The Court of Appeals primarily reviews criminal and family law cases.
What are some unique aspects of Alaska's judiciary? Unique aspects include the use of tribal courts and 'bush judges' due to the state's cultural diversity and remoteness.
How has technology impacted the Alaskan court system? Technology has improved accessibility and helped to overcome geographic challenges in the Alaskan court system.
District courts in alaska
in
Here are all of the Borough located in the Alaska Estate.
Aleutians East
Aleutians West
Anchorage
Bethel
Bristol Bay
Denali
Dillingham
Fairbanks North Star
Haines
Hoonah-Angoon
Juneau
Kenai Peninsula
Ketchikan Gateway
Kodiak Island
Kusilvak
Lake and Peninsula
Matanuska-Susitna
Nome
North Slope
Northwest Arctic
Petersburg
Prince of Wales-Hyder
Sitka
Skagway
Southeast Fairbanks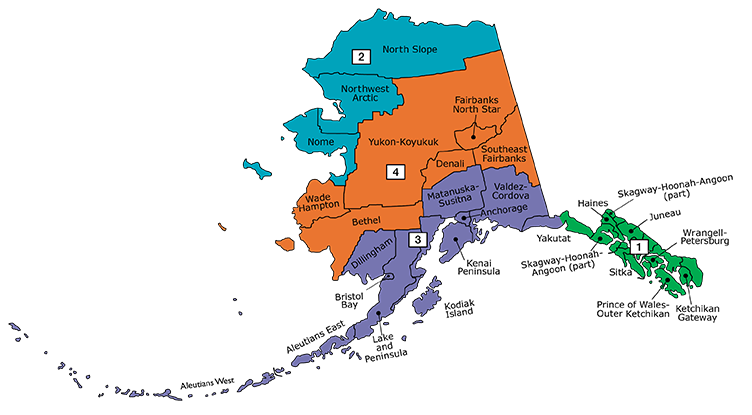 District Courts
District Courts
Detail of every District Court is here.
Haines
Juneau
Ketchikan Gateway
Prince of Wales-Outer Ketchikan
Sitka
Skagway-Hoonah-Angoon
Wrangell-Petersburg
Yakutat
Nome
North Slope
Northwest Arctic
Aleutians East
Aleutians West
Municipality of Anchorage
Bristol Bay
Dillingham
Kenai Peninsula
Kodiak Island
Lake and Peninsula
Matanuska-Susitna
Valdez-Cordova
Yakutat
Bethel
Denali
Fairbanks North Star
Southeast Fairbanks
Wade-Hampton
Yukon-Koyukuk